The journey of the "European Living Library for Young Citizens" project is really wide. For a couple of years, the consortium of this project has been working to develop some events and a documentary where the "books" of the libraries are people talking about their stories.
Even though the project came to an end a couple of months ago, we continue spreading the voices of all these people. Last week, we had the opportunity to participate in an event that showcased the impact of the Living Libraries project in Europe. This unique project aims to promote dialogue and discussions among citizens belonging to different socio-economic groups, while breaking prejudice and stereotypes that exist among them.
The session began with a dynamic of presentation and group cohesion, where participants were introduced to the concept of Living Libraries and the importance of active citizenship. Then, we watched the first minutes of the documentary that talked about politics and the personal realities of each "book" person, generating a space for debate on how politics affects young people (13-14 years old) and their active participation in politics or in society in general.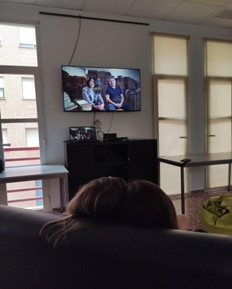 The results of the discussion were eye-opening: many participants didn't know how politics works and didn't have in mind the magnitude of how it affects them daily. However, they were motivated to learn how to actively participate. After these reflections, we watched another part of the documentary where the "book" people told their experiences/stories.
To enhance the experience, we did a story-making dynamic where each participant had time to generate their own story if they were to participate in a Living Libraries event. This was a unique and fun way for the participants to put themselves in the shoes of the "book" people and share their own experiences.
At the end of the session, we did an evaluation round where the participants evaluated the documentary and the dynamics done. The overwhelming response was positive, with participants appreciating the opportunity to engage in discussions about important social and political issues, and the chance to explore different perspectives and experiences.