2022 European Year of Youth
2022 European Year of Youth
"But if we are to shape our Union in their mould, young people must be able to shape Europe's future. Our Union needs a soul and a vision they can connect to."
Ursula von der Leyen, President of the European Commission
During the 2021 State of the Union address, European Commission President Von Der Leyen announced the Commission's intention to propose designating 2022 as the European Year of Youth. Following the conclusion of the inter-institutional negotiations, 2022 was officially designated as the European Year of Youth, with the goal of involving youth in designing a greener, more inclusive, and digital European future.
OVAJ BLOK NE KORISTIT
What is the #EYY2022?
The European Year of Youth (EYY) provides an opportunity for young people to learn, share their vision, and meet other young people from all over Europe by participating in or initating new activities and projects. In short, the EYY aims to:
renew the positive perspectives for young people while highlighting how the green transition, the digital transition and other Union policies offer opportunities for young people and for society at large;
empower and support different groups of young people, including through youth work, to acquire relevant knowledge and competences and thus become active and engaged citizens and agents of change;
support young people to acquire a better understanding of public policies to support their personal, social, economic, and professional development in a green, digital, and inclusive world;
mainstream youth policy across all relevant Union policy fields in line with the 2019 – 2027 EU Youth Strategy to encourage the bringing of a youth perspective into policy-making at all levels.
How is the European Union marking #EYY2022?
Through organizing various conferences, events, and policy initiatives; by promoting youth participation and enhancing the use of existing and new innovative tools, channels, and programs; through gathering ideas using participatory methods in an effort to co-create and co-implement the European Year; and by providing information, education, and developing awareness-raising campaigns to convey EU values.
So, how can I/WE participate in # EYY2022?
You can participate in one of the many activities organized under EYY. Check out the official EYY website, look for a MAP, and filter out events that interest you! You can also submit an activity if you want to organize an event under EYY!
CONNECT International's contribution to #EYY2022

CONNECT has decided to support the EU's EYY efforts by promoting more Digital Union and Digital Transition among young people, as well as ensuring that the Youth perspective is included in the Digital Agenda! 
70.4 percent of youth organizations and organizations for youth across Europe reported using digital tools on daily bases in their work. Similar number of them anticipates that the use of digital tools in youth work will expand in the future. Connect International, 2021
We work with our members to promote our digital agenda among young people while also ensuring that their voices are heard in policymaking! During the European Year of Youth, we are focusing on how digitalization affects young people and youth organizations throughout the European Union and beyond!
OVAJ BLOK NE KORISTIT
What are the most significant things CONNECT wants to do during #EYY2022?
CONNECT has focused its efforts on promoting and advancing the digital aspect of the #EYY2022 in accordance with its four pillars of work and the EU's strategic priorities!
Promoting youth rights and advocating for their equal application in the digital world as a means of inclusion and combating discrimination.
Supporting free and open internet access, developing educational resources, improving digital literacy and skills, bridging the digital divide, and ensuring digital literacy and inclusion.
Strengthening digital democracy, youth participation, decision-making, and freedom of assembly.
Introducing innovative practices and ICT development in youth work to empower young people for ever-changing life in the twenty-first century. 
How is CONNECT contributing to marking #EYY2022?
Through organizing various events, workshops, capacity building programs, conferences, the production of guidelines and policy recommendations, advocacy, and echoing of young people's opinions!
So, how can I/WE follow and participate in your activities?
Check out the official EYY website, look for a MAP, and filter out events that interest you! You can also submit an activity if you want to organize an event under EYY!
Check out our EYY-specific landing page to learn more about CONNECT's projects and activities under #EYY2022!
Contact us if you want to participate in our events! Check out our Member Organizations list and get in touch with them if you want to follow their work in your country!
Visit our website and read our studies, guidelines, and policy proposals – they may be useful in your work!
Stay tuned for more information on CONNECT's upcoming #EYY2022 activities!
Philosophy behind CONNECT's engagement in #EYY2022
Young people are essential to our growth. Their lives are filled not just by academic, cultural, and sporting activities, but also by youth work and non-formal education. Accelerated technological advancement and COVID-19 pandemic forced upon digitalization in all spheres of our lives, including youth work and non-formal education. CONNECT International was one of the few organizations that enthusiastically welcomed this transformation, owing to its prior field experience. In order to create a high-quality digital infrastructure that benefits young people and youth organizations, CONNECT International and its members have been tirelessly exploring ways to deploy digital tools and innovation more effectively in youth work. While digital change is unavoidable, its successful implementation in our daily lives is not. Therefore, our policy work provides compelling arguments for bringing humanity to digital life and ensuring that technology is used to the benefit of all young people while safeguarding their rights in the digital realm. Through our work in the field, we aim to empower young people and youth organizations to use technology in a way that will benefit young people and society at large!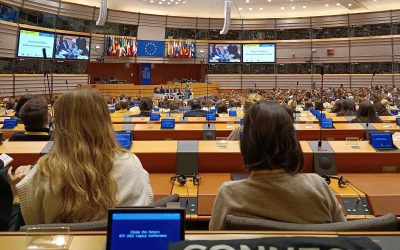 Last week CONNECT attended two events organized within the European Year of Youth 2022. On December 5 our representatives attended the EYY2022 National Coordinators and Stakeholders meeting where they had the opportunity with many other organizations and national...